RH decorative set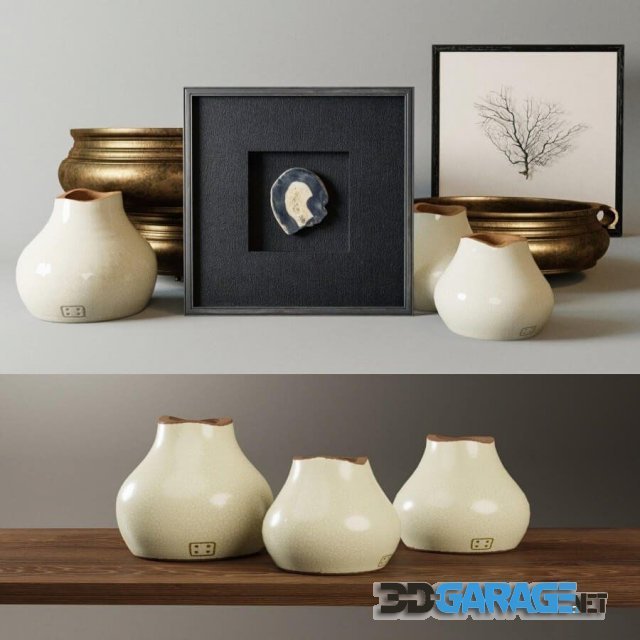 3d-model – RH decorative set
Format: 3ds max 2015 (Vray, Corona), fbx, obj
BRASS INDIAN URLI BOWL COLLECTION
Our handcrafted bowl is inspired by ceremonial cooking vessels used in temples throughout southern India during the 18th century. Intricately detailed with concentric rings, scrolling strap handles and a narrow, tapered foot, it bears the antique luster of a treasured artifact.
Small: 16" diam., 8"H; 17.5 lbs.
Medium: 22" diam., 8"H; 28 lbs.
Large: 26" diam., 8½"H; 39.8 lbs.
PORTUGUESE EARTHENWARE LUISA COLLECTION
Hand-crafted of terra-cotta by artisans in Portugal, our earthenware collection celebrates organic materials and natural forms. Glazed by hand, Luisa features an irregular, undulating rim that contributes to its tactile, sculptural quality.
Small: 7¾" diam., 5½"H
Medium: 7¾" diam., 9¾"H
Large: 11" diam., 10"H
NATURAL AGATE ON LINEN - BLACK
A cross section of an ovoid agate reveals delicate translucency of the stone and the bands of color hidden within. A simple linen mount foregrounds the unique, natural beauty of each piece.
18"W x 1½"D x 18"H; 5 lbs.
PRESERVED SEA FAN WITH IVORY MAT - SQUARE
Sea fans grow their lacy fronds as they wave in warm, shallow waters of the West Indies, the Bahamas and other exotic locales. The graceful, delicate filigrees of our genuine sea fans become natural works of art in our one-of-a-kind framed editions.
22" sq.
Highlight text and press
Ctrl+Enter